FA could investigate swearing from United star
Wayne Rooney has apologised for swearing into a television camera during Manchester United's win over West Ham.
The England striker uttered an audible expletive following the completion of his hat-trick at Upton Park, which helped United come from 2-0 down to win 4-2.
Rooney's
outburst prompted an immediate on-air apology from broadcasters
Sky Sports
.
The Football Association
revealed that they would examine the footage before deciding whether to take any action against Rooney.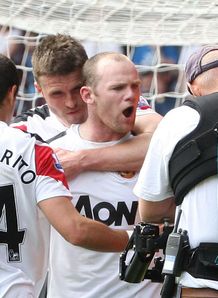 In a statement released by his club, the England international has put his outburst down to the emotion of putting his side ahead.
Apology
He said:
"I want to apologise for any offence that may have been caused by my goal celebration, especially any parents or children that were watching.
"Emotions were running high and on reflection my heat-of-the-moment reaction was inappropriate. It was not aimed at anyone in particular."
It is understood that taking action over a player swearing into a camera may be unprecedented, but the FA's rules do appear to have a provision about such behaviour.
They state: "A participant shall at all times act in the best interests of the game and shall not act in any manner which is improper or brings the game into disrepute or use any one, or a combination of, violent conduct, serious foul play, threatening, abusive, indecent or insulting words or behaviour."
Rooney upset England fans during last summer's World Cup when he turned to a television camera and verbally attacked them at the end of the dismal goalless draw with Algeria.
Source:
skysports
Sportdiva:
well Rooney has got attitude issues and as always i hope he didnt get away wit this because the FA has already said THEY DONT HAVE RULES FOR SUCH BEHAVIOUR, it is unfair the way the FA/EPL protect the boys from Manchester United sometimes i wonder if THERES A ROYAL BACKING as we all know, Prince Williams is a Manchester United Fan i mean die hard fan, so i wont be surprised.