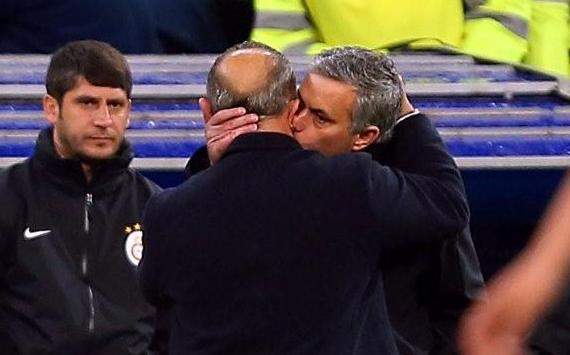 Real Madrid coach Jose Mourinho has claimed that his future at the club does not depend on whether they win the Champions League as they prepare to face Galatasaray.
The Portuguese has been widely linked with a summer exit from the club after a disappointing Liga campaign, but the 50-year-old has insisted that whether he stays does not depend on whether he can claim the club's 10th European title.
"All teams are here to win," Mourinho told a press conference.
"My future has nothing to do with whether we win the Champions League or not."
Madrid hold a 3-0 lead from the first leg against Gala, but Mourinho went on to warn his players that the tie is not over.
"We have not won anything yet. It's true that we have a good result from the first leg, but there's still a difficult game to play," he continued.
"We must remain focused if we want to go through to the semi finals, the 3-0 does not guarantee anything.
"We are also preparing from a tactical point of view. I hope the message is reaching its targets. I would be quite surprised if I don't see my men ready to play a highly difficult game."
The former Chelsea coach went on to say that his side are among the favourites for the competition.
"Barcelona, Real Madrid, Juventus and Bayern Munich are one step ahead of others - I give each of these teams a 25 per cent chance of winning the Champions League. Dortmund and Malaga are almost equal."
Finally, Mourinho voiced his belief with his side would be able to deal with the raucous atmosphere in the Turk Telekom Arena.

"
We expect a sold-out stadium with a very intense environment tomorrow. Although the fans could be intimidating, me and my players thrive in that kind of atmosphere," he added.
"My players are accustomed to these environments. We must be calm and do our job."
"If we lose 2-0 or 3-1 tomorrow, even though we will progress, I won't return home a happy man. I want my team to win."
credit to goal.com