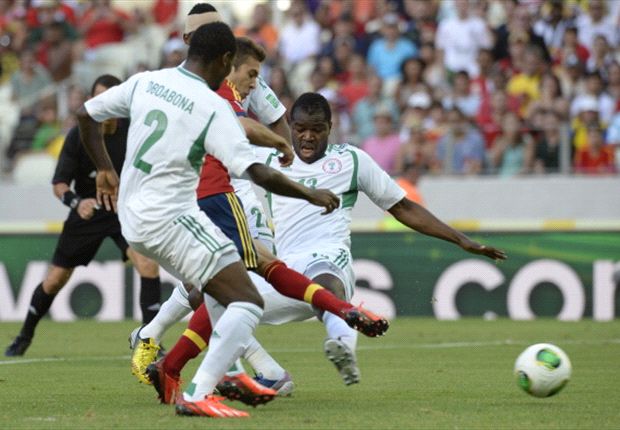 The former left back who played in the country's Golden Generation wants Stephen Keshi to strengthen his squad with a couple of older players
Former Nigeria left back Benedict Iroha has asked Super Eagles coach Stephen Keshi to bring back into the team experienced players like Peter Odemwingie, Victor Anichebe, Ikechukwu Uche and Kalu Uche to further strengthen the team.
Iroha disclosed that it was high time for Keshi to recall these players after Nigeria were eliminated following a 3-0 loss to Spain on Sunday in the Confederations Cup.
"I don't think it is a difficult issue for Keshi to bring back Osaze Odemwingie, Victor Anichebe, Ikechukwu Uche, Kalu Uche to compliment the good work of Emmanuel Emenike, Victor Moses and others to further strengthen this team," Iroha told
Goal
.
"I know Keshi is gradually working on this team so that we can blend the young and talented players that have done well so far in this team.
"We need [Odemwingie] and others back and I am happy that he himself said it on his twitter handle that he wants to play for the Eagles again. So this a good omen," the former left back observed.
Iroha also defended the performance of the Super Eagles in the Confederations Cup as he believed that the Nigerian team was not disgraced in the competition despite being ousted by world and European Champions Spain.
"To be honest with you I am very impressed with the performance of the boys. They were never disgraced in all the three matches they played before being eliminated.
"They played a good match against Tahiti and also played beautifully against star-studded Uruguay. They could have even won the game if not for poor marksmanship most especially in the first half. This was later repeated in the third group match against Spain.
"Eagles could have wrapped up things in the first half but couldn't convert the begging chances created against the world champions. So in all I think Nigeria played impressively and showed the world that we have got quality. As we know team coach Stephen Keshi is still building this team and the Eagles can only get better with time," Iroha disclosed.
Nigeria have a game against Malawi in September as they seek to qualify for the 2014 World Cup in Brazil